Write in BRIAN KELLY for Congress in 2022
Brian Kelly for Congress 2022:
Above: Pat & Marty Election Night 2010 / Below: Biden/Cartwright--Problem for US Scroll down please
please donate-- help pay costs of running.  Send a check to Brian Kelly for Congress Box 621 Wilkes-Barre PA 18701
Matt Cartwright & Joe Biden "Accomplishments"
Incompetent governance;; Higher Taxes;; Costly regulations;; Shut down the Keystone Pipeline;;  Canceled oil & gas exploration in the Artic;; Opened Russian Pipeline;; Destroyed energy independence;; Begged OPEC for more drilling;; Nobody can afford gasoline;; Killed many American jobs;; Bankrupted America with give-aways;; Set inflation record for Americans;; American surrender in Afghanistan;; Botched Afghan withdrawal;; OK's Americans left behind;; Stranded Americans in Afghanistan;; Gave in to Iran on nuclear bombs;; Groveled, kneeled and genuflected to China;; Took China cash for Big Guy from Hunter;; Promised unity but divided the nation;; Promotes Critical (Criminal) Race Theory;; Against the Constitution;; Against the 2nd Amendment;; For packing the Supreme Court with Democrats;; For creating two new Democrat States;; Puerto Rico & Washington DC States;; Rolled back Trump's working immigration policies;; No end in sight to Biden's invited border surge;; No Biden initiative to solve border crisis;; Open borders;;  Surrender at the southern border;; Drug dealers, human traffickers, violent criminals permitted;; Botched 2021 COVID response;; More COVID-19 deaths under Biden;; Non-citizens admitted without COVID-19 tests;; Unconstitutional vaccine mandates;; Against effective remain in Mexico policy;;  Americans unable to find one positive thing Biden has done;; Pompous Ass Biden bullies and imposes his failures on America;; Most Americans cannot take any more of Biden;;  Let's Go Brandon!—vulgar or simply true?;;;;;;;;;;;;;;;;;
Pat & Brian Kelly Voting at Kistler School in 2010 Election. Keep Scrolling
please donate to help pay the costs of running.  Send a check to Brian Kelly for Congress PO Box 621 Wilkes-Barre PA 18701
Home
Biden Has Gone Off the Rails
Date: Mon, 15 Nov 2021 12:09:38 -0800
From: "Lee Murphy" <This email address is being protected from spambots. You need JavaScript enabled to view it.>
Reply-To: This email address is being protected from spambots. You need JavaScript enabled to view it.

He has taken Pelosi and Cartwright with him
Brian W, 
Joe Biden's presidency is destroying America. He repeatedly fails to tell the truth, and his mental acumen has deteriorated to the point he cannot be trusted to protect America, let alone restore its economic vitality.
I'm Lee Murphy, Republican candidate for Congress, and I know Joe Biden personally. When I worked for Amtrak as a conductor, he rode my train between Wilmington, Delaware, and Washington, D.C.
I can attest that Joe Biden has gone off the rails.
In his ongoing attempt to gaslight Americans into believing this liberal elite is a regular Joe, Biden continues to lie about—or forget—the facts of a yarn he continues to spin about an interaction with an Amtrak employee he had seven years into his vice presidency.
The problem is Joe Biden's facts don't line up—once again. The alleged employee Uncle Joe recounts conversing with retired in 1993…and died in 2014. Biden was in the seventh year of his vice presidency…in 2015.
If you believe it's time to slam the brakes on Joe Biden's runaway train and get our nation back on the right track, chip in $250, $100, $50, even $25 toward my campaign to defeat Biden's failed record in his backyard.
Whether Biden is lying or struggling to recall facts, he has once again demonstrated he has gone off the rails.
Biden is the conductor of a Socialist Crazy Train that is transforming America into a nation that is no longer recognizable:
An America where police are defunded and Americans are stripped of their Second Amendment right to self-defense.
An America that is spending itself into becoming a third world country.
An America where parents have no say in their children's education.
An America where the government snoops on your bank account and is turned into a surveillance state.
I'm running for Congress in Joe Biden's back yard – as a proud Republican and American patriot who will go toe-to-toe with Joe. He even asked me to join the Democrat Party years ago.
My answer was simple: No.
With your contribution today of $250, $100, $50, even just $25, we can send a message to Joe Biden and to Washington that we will not tolerate their incompetence and misinformation as they speed America down the track toward Socialism.
I love America, and that's why I'm running to keep America free from Joe's socialist crazy train. With you on my side, I'm confident we will succeed.
For America,

Lee Murphy
Republican for Congress
PAID FOR AND AUTHORIZED BY GOMURPH.COM

1200 G St NW Suite 800 Washington, D.C. 20005
Vote for the 2022 District 8 Congressional Underdog!
BRIAN KELLY ASKS PA 8th CONGRESSIONAL DISTRICT VOTERS TO DO THE AMERICAN THING: "VOTE FOR THE UNDERDOG." 
 
Despite the candidate expecting no press coverage whatsoever for his campaign for Congress v Matt Cartwright in District 8, Brian Kelly asks you to write the papers to tell them to be fair to all candidates. Brian Kelly will be pleased in January to announce his candidacy for the US Congress.
With your help, the two WB newspapers will have no choice but to give Brian Kelly, the Congressional Candidate, a loud voice in the media outlets that most-often favor politicians. Candidate Brian Kelly will most appreciates an overture of fairness by the press. He asks all citizens with a voice to let the VOICE and the LEADER know they too can be pleased to help send a biased politician back home.
A sincere thank you and big CHEERS from a declared write-in candidate goes to the Citizens Voice and its management and to the Times Leader in Wilkes-Barre and its management for acting positively and fairly as the Fourth Estate as envisioned by the US Founders in the Constitution. JEERS to any media outlets in NEPA-- Press, Radio, and TV, for not doing their jobs. Kelly knows he needs media support to help get District 8 back on track after too many years of Nancy Pelosi and corrupt Democrat leaders calling the shots for Northeastern PA. 
Read more: Vote for the 2022 District 8 Congressional Underdog!
Write-in Ballot Signature Rules
Read the rules for casting a write-in ballot below:
Where is District 8 in PA?
You already know where to vote or how to vote as that is well-known information but let me help you with some of it as a refresher. I will also explain how to use Write-in ballots.
Pennsylvania's 8th congressional district was recast and now since 2019 includes some of the former District 17, which Dan Flood "ruled" for years. It is located in the northeastern region of the state. It encompasses all of Wayne, Pike, and Lackawanna counties, along with almost all of Luzerne and Monroe counties.
Write-In Candidates
Book Preface: Jobs! Jobs! Jobs!
Unpublished
Preface to the Preface:
This is both an essay and a Preface for Jobs! Jobs! Jobs!.  All of the essays in this Jobs! Jobs! Jobs! menu have already been packaged into a book titled Jobs! Jobs! Jobs! When you create a book, it needs introductory material. Much of this is packaged in a front matter item called the "Preface."  Front matter comes before all of the other material in the book. Typically nobody wants to pay for Front Matter. When they buy a book, they are mostly interested in just the chapter or essay contents.
 
Anyway, this is no ordinary Preface. As you may know, the whole book titled Jobs! Jobs! Jobs! is free in this section of the site (you just do not get the paper) . Without having the preface that I wrote for the book, it would really be incomplete.
Brian Kelly has a bunch of great books you will love
I admit to writing about thirty books about Trump. My opinion is the Democrats destroyed him with fake scandals.
Brian Kelly wrote a hundred or more books since then but recently, September 2021, Amazon canceled me so you can no longer buy my books. Amazon has all my book files. I am trying to get relief through a lawyer.  If you don't have to buy from Amazon think about what they would do for you if you depended on them. There are other companies. You can see the titles for all my books on the first page of letsgopublish.com.
The Trump Book Series was put forth in 2016. It was called :
The Trump Way
There were a number of Books in the Trump series beginning with Why Trump? Kelly has written at least a hundred more books, mostly about Sports teams such as the Eagles, Steelers, Patriots, Syracuse University, Penn State, Notre Dame, Army, Alabama, Clemson, etc. You won't believe what there once was to see at amazon.com/author/brianwkelly.  Brian will be back but it may take awhile. When elected your representative, Kelly will fight so that the big tech oligarchs will not have so much power over the common man
Of course Brian is hoping that Amazon will reinstate his account soon so all these Trump books, which still tell a great story, will be available for you to see and possibly purchase.  Amazon canceled Brian W. Kelly on September 15, 2021 because he uploaded a book to be published and Amazon Content Reviewers, who are a modern-day brown-shirt gestapo agents found some of the facts in the book titled Should We Cancel Student Debt ???, such as the fact that Americans owe 1.7 trillion in student debt, are also available on the Web. That was his offense. The punishment was that Amazon will not print or list or market and distribute this book plus because they say I acted against their rules, I am no longer able to sign on and the 290 + other books that had been selling well are now taken off the market. . We'll see what happens.  
Remember we face elections all the time. For this election, Brian Kelly, a JFK style non-Marxist from Wilkes-Barre, PA is running for Congress against the people's nemesis, a Nancy Pelosi favorite, Matt Cartwright. Brian asks you to cast a write in ballot for him so that Matt Cartwright will not be able to run in the fall. A sure way to keep Cartwright out of Congress is to eliminate him in the primary by writing in Brian Kelly.
Write in Ballots are easy to do just remember the proper spelling of B-R-I-A-N  K-E-L-L-Y and click on write in and then type in the name. We can have a change for good government instead of the same ole same ole which is killing our country. 
Nobody else running is pro-life and pro-Pennsylvanian. Think about that. Cartwright is for Killing the Babies and for all of the Biden/ Schumer/ Pelosi items in the Democrat Marxist Agenda. Kelly is a patriot having put six years in the Army for the USA and Pennsylvania.  Check the Kelly Platform and you will find patriotism is at the top. You won't find a patriotic bone in Matt Cartwright's whole body. Read about what he is for and it will make you sick.
By the way, my full name is Brian W. Kelly but when you write my name in, when you vote, don't use the middle initial. It will save you a little time. Thank you 
In case, Amazon lets you get these books from their site in due time, here are some great books about Trump and how to click for them on Amazon: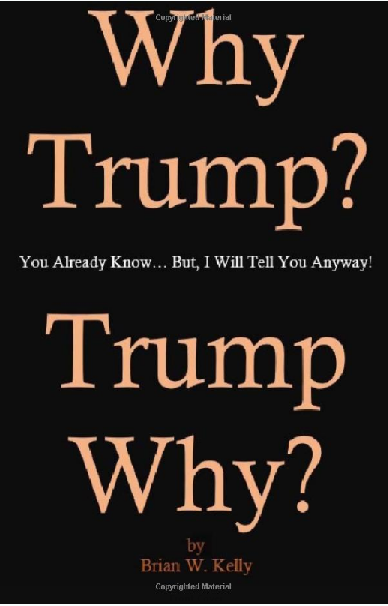 Why Trump? 2016 Subtitle: You Already Know but I Will Tell You Anyway!—This is the linchpin book that describes Donald Trump's great plans for America and it brings in the opinion of many great Americans. This book takes the time to tell the reader why Donald Trump should be President of the United States. If you are not sure, you need to read this book. This was one of the books that Kelly used to help get Donald Trump elected.
 https://www.amazon.com/Why-Trump-Already-Know-Anyway/dp/0997766743/ref=asap_bc?ie
       2. Saving America The Trump Way 2016
       This book is quite simple. It helps the reader learn how Donald Trump planned to save America. There are no jokes in this book. He did what he promised. Don't we miss his leadership in these times?
https://www.amazon.com/Saving-America-Trump-How-Book/dp/0997766735
Read more: Brian Kelly has a bunch of great books you will love
Great Book - Jobs! Jobs! Jobs! - And It's Free!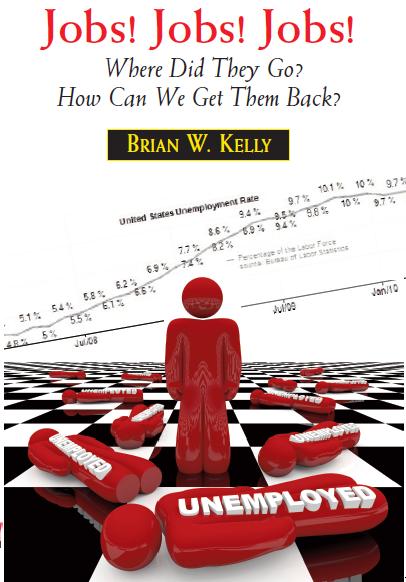 Hopefully you will elect me your next Congressman and we will not have to fear the lack of jobs anymore.  I know how to bring Jobs back to Northeastern PA and the USA at large.  I am a regular citizen and not one of the elite. Why not give me the opportunity to help all the people -- US!  
When I ran for Congress in 2010, I wrote a book for all Americans. The title is Jobs! Jobs! Jobs!  The subtitle is Where Did They Go?  How Can We Get Them Back?  In 2016, I revised and updated this book and it is available for free on the briankellyforcongress.com web site.  
The original soft cover paperback of the book is available for sale at 
amazon.com/author/brianwkelly. Check out the site to find other great patriotic books. Scroll on the site menus right on the Congress site to find all the chapters in the Jobs! book available as free downloads. The book is a compendium of many essays about the Jobs! Jobs! Jobs! problem in the US and NEPA. 
Enjoy it for free or buy a hard copy from Amazon. 
You can read these essays, which are much of the substance of the book, free on the web site. You never have to buy this book unless you want hard copy. Kelly has packaged a deal for you that you won't believe. Your friends and family can read the updated book right on www.briankellyforcongress.com for free.  
Since the time he ran for Congress, Brian has written many more books on the subject. One is called the RRR Plan, a very comprehensive plan for reestablishing America as a business leader and Saving America, a detailed plan for saving America from financial ruination. These books are available in hard copy on the Amazon site (amazon.com/author/brianwkelly)   
As noted, the revised text of Jobs! Jobs! Jobs! is also on this site packed in up-to-date essays. Each essay that is in the book is available on the right side of the home page under the Jobs! Jobs! Jobs! heading.  
Yes, it's free. No kidding.  Even the book's Preface, a worthwhile read as an essay unto itself is on this site. The Preface is also included in the hard copy of this Brian Kelly for Congress book that you are may choose to read.  
It is where you should begin as it is another important essay on the Jobs! Jobs! Jobs! Landscape. If you would like to get the book in paper form, feel free to take the link to amazon.com/author.brianwkelly . Otherwise, it is on this web site for you to read and to enjoy.  
Thank you for choosing to visit the Brian Kelly for Congress web site.    
By reading the full content of Jobs! Jobs! Jobs! just like author Brian Kelly, you too will get an appreciation about jobs that you may never have had before.  Kelly wants to create jobs in the US and in NEPA in particular and he outlines how it can be done when Congress finally wants it to be done.  So far, it seems Congress is disinterested in anything that is good for America. They get their cues from President Obama.  
So far, as you well know, Congress has avoided its responsibility of helping Americans in need of jobs. For years, they have either taken no action or given more rights to foreigners and International Corporations.  
Instead of being a force to help the American people, Congress, especially this past several versions which included do-nothing Matt Cartwright, has chosen special interests over the needs of the American people. Along with Matt Cartwright from Northeastern PA and Joe Biden, they have permitted unbridled crony capitalism with huge corporate profits to the friends of Congress and cronies of the President.  
Meanwhile, the same corporations are shipping jobs overseas or bringing in foreign workers to replace Americans in their enterprises.  This is not fair.  
That is why Brian Kelly is running for Congress -- to change the jobs scenario and many other scenarios that work against the people. Kelly thinks jobs are more important than special interests.  
Don't you agree?  
Why not pick a person for Congress like you, who thinks like you do?
Brian Kelly's Plan Can Bring 60,000,000 Illegals Out Of the Shadows !
By Brian Kelly
With Brian Kelly's plans for illegal immigration "guests," the 60 million interlopers in America have a better shot at life than in their home countries?  So do American citizens who today are the big losers as the interlopers work for peanuts. 
The Congressional solution to the occupation of the US by 60 million illegal foreign nationals is trumped by the idea that border security must come first. Yet, this appears to be merely a ruse by Congressmen in the pockets of lobbyists and donors. Border security never comes first. In fact, it never comes, period.  In the days of America with leadership such as Congressman Matt Cartwright, President Joseph Biden, House Speaker Nancy Pelosi & Majority Leader Chuck Schumer, they don't even speak of border security anymore. Perhaps they believe  Americans are OK with their ruse and inaction. Their goal is obviously to permit as many illegal immigrant potential voters into the US while they still have power. Then, when they get power again, they will put amnesty into the package and somehow convince even Republicans to vote for it. Americans must be careful for whom we vote in 2022. That's why Brian Kelly is running. Write him in and you will be ahead on immigration solutions for sure. Read the rest. There is lots of information here.  
Read more: Brian Kelly's Plan Can Bring 60,000,000 Illegals Out Of the Shadows !
Should Government Be Left to the Politicians?
This will be released as a press release.
Question:  Who the heck do you think you are coming out of retirement, never having been in government or politics, and after challenging one of the longest serving representatives in NEPA, Paul Kanjorski, and losing in the 2010 primary to the incumbent, you now have the nerve to take on Matt Cartwright, one of Scranton's finest lawyers once from the firm of Munley, Munley & Cartwright? Shouldn't an opportunist like you just stay retired? 
Answer: 
Thank you for the question. I ask myself that all the time but not exactly as you have asked it. Why should I run for the US Congress as a write-in candidate? The short answer is that I care and I am deeply concerned that the current government is selling us all out for their own benefit. Matt Cartwright for example through self-serving acts has become a multi-millionaire. How did that happen. I am suspicious of anybody who is part of the current administration, Democrat or Republican! How's that for a start?  Matt Cartwright needs to be sent home regardless of who becomes the Congressman for the 8th PA District. If I succeed because I am a Democrat, we can get rid of poor government by Cartwright on May 17, 2022, and not have to wait until the Fall.  That is a good reason for everybody to vote in the Primary.
Contact Information & A Little More!
Got a question? Feel free to email the campaign: 
This email address is being protected from spambots. You need JavaScript enabled to view it. or send a note and a small check to Brian Kelly for Congress; PO Box 621; Wilkes-Barre PA 18701. 
As you know quite often email addresses that are open such as ours are the victims of SPAMMERS who swell the emailbox, making it difficult to find legitimate questions.  As long as we are able to work with this valuable source of contact, we will keep this line of communication open. 
Why Should I Vote for You?
Question: I have read a lot of the stuff on your site and, other than that you don't seem to be a normal Democrat, and I am not so sure about that, why should I vote for you? 
Answer:  Thanks for the question.  I wrote many of the things on this site myself so I am not sure if you really read them all.  I am not sure that I can convince anybody that I am worthy of their vote. Though the fact that an ordinary guy permits himself or herself to go through this process, I think that unless they have other ideas about a representative democracy, that ought to be enough.  Let me take a crack at this question though it intrinsically annoys me.  Don't hang up early on this... OK? 
Americans Need Not Apply!
Americans Need Not Apply! 
Irish Need not Apply! Syrians need not apply! Italians need not apply! Spanish need not apply! Polish need not apply! How many of our parents went through tough times in the USA finding bigotry instead of work when they sought employment?
Press Release Announcing BK Candidacy
Contact:   Brian P. Kelly
Email:       This email address is being protected from spambots. You need JavaScript enabled to view it.
Site:         www.briankellyforcongress.com
Date:        Wednesday, December 15, 2021
*** PRESS RELEASE ***
BRIAN KELLY ANNOUNCES HIS CANDIDACY FOR CONGRESS
  IN PENNSYLVANIA'S 8th DISTRICT
Says It Is Time To Return The Government To The People!
Many Brian Kelly Books are available at Amazon
Brian Kelly's 293 Books Available at Amazon 
These books help Brian Kelly Survive!
If you would like to see other articles on a number of patriotic topics, feel free to visit www.brianwkelly.com. Brian's 2022 plan is to serve in Congress in the House and follow it up with at least one more term but not two more.  Recent work by Brian was once hosted by conservative action alerts, but they did not make it as an entity. This patriotic site unfortunately did not survive. To keep his editorial content alive, Kelly moved it to his personal web site at www.brianwkelly.com. Enjoy!  
About Brian Kelly
About Brian Kelly 
Brian Kelly is married to the former Patricia Piotroski and the couple resides in Northeastern Pennsylvania as they have all their married life of forty years. They are the proud parents of three wonderful adult children, Brian, Michael, and Katie.
Brian Kelly was born and "raised" in Wilkes-Barre PA. He attended St. Boniface Grade School and Meyers High School.  Brian was both a pitcher and a catcher on the Meyers High Baseball team and he was active in many school clubs as well as the student council.
Worker Visas Take Many American Jobs
Worker Visas Take Many American Jobs 

The US Visa programs have been used by corporations and a complicit Congress & President to sell out American intellectuals and skilled service workers in recent years.  The scam continues even while Americans are unemployed in record numbers.  Trump brought a lot of jobs home but those days are gone as Biden is not known to be pro-jobs. The Visa Program had noble beginnings and there is no obvious problem with the type of people who come in on visas. However under certain visa types, employers get a big bonus as they can access foreign technical talent for slave wages. 
Are you a DINO 2022 Update?
Question: Mr. Kelly, Are You a Democrat in Name Only (DINO)?
 That is a great question. Thank you!
I may not know the answer to that question but I will tell you how I feel.  A long time ago, when I was a kid, I believed the Democrat Party was the party of the people. Though I started out as an Independent, I became a Democrat in my early twenties because of the principles of the Democrat Party. My father believed in these principles also and he taught me them at the time.  Democrats represented the ordinary people and the Republicans represented business. The people needed good representation from the Democratic Party because big business already had the Republicans. Things changed when the leftist / Marxists took over the Democrat Party
Greed Is the Secret for Returning Jobs to America!
Bringing Back US Jobs from Offshore -- Greed Is the Answer!

"Corporations have been enthroned and an era of corruption in high places will follow, and the money power of the country will endeavor to prolong its reign by working upon the prejudices of the people until all wealth is aggregated in a few hands and the Republic is destroyed."

Who do you think said this? Could it be: Barack Obama?  George Bush?  Ronald Reagan?  Sean Hannity? Keith Olberman?  Katie Couric?  If not the famous, then who?  Tom Stites, the author of one of my sources for this piece thinks that the inflammatory rhetoric may "sound like a protester railing against the World Trade Organization?"  Then he inquires as I just did in these words:
Read more: Greed Is the Secret for Returning Jobs to America!